For Everyone
Stay Connected Off-Network — Any Device, Anywhere, Anytime
Office 365 and OneDrive
When you need to stay connected and you're off-network, Office 365 and OneDrive let you access your files and most of your Microsoft apps, like Outlook, Word, Excel and more. As long as you have internet service, you can use these tools — anywhere, on any device. 
How to access your files off-network
From off-network, just login to Office 365 (office.com), and you'll see the icons below on the left side. Click OneDrive to start working there.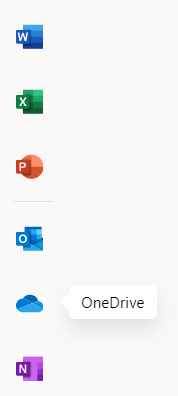 Required before OneDrive will work — copy your files to OneDrive
For OneDrive to work off-network, be sure to copy files from your I-drive or desktop while you're on-network. If you don't copy your files to OneDrive, they won't be there. To copy items to your OneDrive, login to Office 365 and click OneDrive. At the top of your screen, click Upload, then either Files or Folder. Then you can start working in OneDrive with these files, ensuring they're always up to date. Note: OneDrive doesn't automatically sync with your I-drive or desktop, so if you're not working in OneDrive, you'll need to continue copying your files.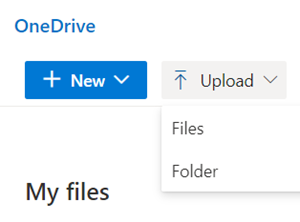 Start using OneDrive now
An easier option is to start working now in OneDrive for the items you use most often, giving you access to these files anywhere, from any device, without being at work, on VPN or on Apps Center. You can start working in OneDrive as soon as you copy your files there. Hint: Don't copy everything, just the files you use most often.