ROVER CLINICAL MOBILITY TOOL
Rover Zebra Smartphone Upgrade
Downtime: 1-3 a.m. Wednesday, April 27
Keep your devices charged and turned on.

Your individual downtime – five to 10 minutes: Rover will drop what you have in progress during this time. You can still use your phone for calls, but use Epic on workstations for documentation.

After your individual downtime – pick up where you left off: When you log back in, Rover will prompt you about incomplete work. You can then continue documenting where you left off.

What's new: Administration details for one medication in the cart won't copy and file to other medications in the cart.
WHAT'S ROVER?
Simplified version of Epic on a mobile device.

Allows limited clinical documentation — includes MAR and barcoded medication administration, LDA, wound care photos and blood product administration.

For nurses, PCAs, techs and other clinical staff identified at each hospital.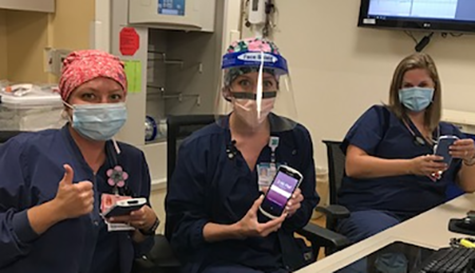 REMINDERS
Prevent accidental pocket dials: Lock your screen  your phone in your pocket. To lock your screen, press the power button once.

Disinfect your device carefully:

When

 using the PDI Sani-Cloth (red top) wipes, be mindful not to saturate the phone with liquid.
Training and Support

Onsite Support

Ask your manager or your team's super user

IT Support Desk