For All Epic Users
Next Epic Update –
Sunday, Aug. 15
Update Companions Available Starting July 23
Starting today, Friday, July 23, you can review your Update Companion to learn how the next Epic Update impacts your role. The Update is Sunday, Aug. 15, and includes new features and enhancements. To view your Companion, press F1 while you're logged into Epic to access the Learning Home, or click the links in tomorrow's Epic Update email.
Note: Preparing is easier for you – you no longer have to acknowledge your review, but be sure you review your Companion so you are prepared on Aug. 15.
Here are a few of the changes coming with the Update.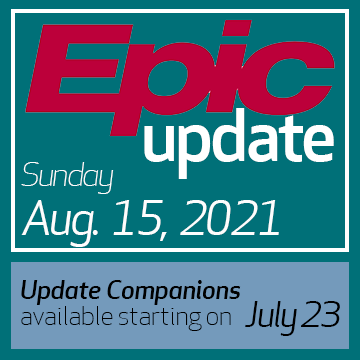 Secure Chat Improvements
Block receipt of messages in one-on-one communications by changing your status to Unavailable.

New sign-in and opt-in groups will make it easier to communicate with others in your department or hospital.

With sign-in groups, when you use the Sign In activity at the beginning of your shift to assign yourself to patients, you're automatically added to appropriate groups based on your role and location.

You can also join an opt-in group at the beginning of your shift and use it to communicate about patients with others in your organization. 

Depending on your work environment, you can set your Chat Settings preference to either show Secure Chat message details or hide them. For example, if you're in a high-traffic area where patients can see your screen, you might want to turn off message details. However, if you're in a closed office setting, it's probably safe to make message details visible. 

If you don't set an end time for your availability status, it will no longer expire. You must manually update your availability status if you don't add an end time.

You can auto-forward messages to a group or an individual.