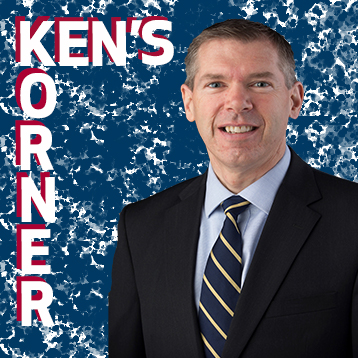 Dear IT Colleagues:
After taking a brief dip in the dunk tank at our Fall Festival, I can attest that cooler weather, closer to that for which I'm more accustomed, has finally arrived. A nice crisp breeze this time of year gets us all thinking about Fall – a time of change.
And much like the weather, there's a lot of change taking place within our IT division as well.
Many of these changes were highlighted at our IT All Employee meeting last month. It was nice seeing many of you there. I always look forward to talking with you, celebrating our success and sharing details about our organizational growth and direction.
During the meeting, I outlined our four key strategic goals:
1. Improve patient and consumer experience.
2. Improve care team efficiency and satisfaction.
3. Improve support of data/analytics for quality, research and operational improvement.
4. Support efforts related to digital innovation.
Numerous projects are already underway towards these goals, with several others in various stages of planning and development. Our key technology themes are 1) mobility; 2) virtualization; 3) automation; 4) data/analytics and 5) machine learning/artificial intelligence.
To help us achieve our goals, we've made some changes within the IT Division to rebalance the responsibilities of our leaders and align our teams with customers and service lines.
As previously announced, Barry Beckett is our new Chief Information Security Officer (CISO) – a critical role in this age of heightened cybersecurity concerns. In addition, Dr. Nick Desai, CMIO, assumes additional responsibilities for the ambulatory clinical systems team.
We're also actively recruiting for a new vice president for technology and shared services, which will in turn add a new system director for technology operations, overseeing our help desk, field ops, server engineering, unified communication and integration/imaging applications.
And finally, I'm excited about our move from Chase to new offices at Bellaire Place next year. The new space includes ample work and meeting areas, and an onsite gym. This comes on the heels of beautiful renovations at Holly Hall, including our own gym and an improved first floor lobby/break area. Thank you for your patience during all the construction.
Just around the corner is Thanksgiving – my second in Houston. It's been a busy and productive first year for me at Houston Methodist. As I reflect on all that we've accomplished, I want to take a moment to thank you for all you do for Houston Methodist.

Ken