Technology that Heals
We've made a number of technology advances during 2018 that make it easier for physicians and clinicians to do their jobs, increase coordinated care, improve care for our patients in the hospital and provide health care tools for them when they're back at home. On some fronts, it's been a year of firsts.
First in the Nation: Addressing the Opioid Epidemic
We collaborated with the CDC and others for an electronic solution to the opioid abuse quagmire.As a result, we instituted all 12 CDC recommendations for chronic pain prescribing, integrated with the state prescription drug monitoring program, and all within Epic.
First in Epic: 

Improving Patient Care and Lowering Costs
The nexus of better patient care and lower financial costs – that's a striking, unintended finding from a recent cost-transparency pilot that saved nearly $464,000 in the first six weeks at one hospital.
First in Texas: Enabling Online Appointments at Same Day Clinics
"On My Way," a new MyChart feature, allows patients to schedule appointments online for a specific time slot at one of three Houston Methodist Same Day Clinics. Previously, patients using these clinics had to call the PCG call center or the clinic directly to make an appointment.
First in Houston: 

Integrating Apple Health in MyChart
By integrating Apple Health, the next generation of fitness tracking, into Epic, patients can take charge of their medical information with a direct link to MyChart.
Better Hospital Care
Sick Bay Enhances Cardiovascular ICU Monitoring
Sick Bay is a new technology providing advanced clinical monitoring in our first private cardiovascular ICU rooms. With that increased level of visibility, physicians can see exactly what's happened with a patient's heart, targeting interventions. It also provides minute-by-minute patient surveillance instead of hourly vital signs obtained from patient rounding.
Improving Health for Medicare Patients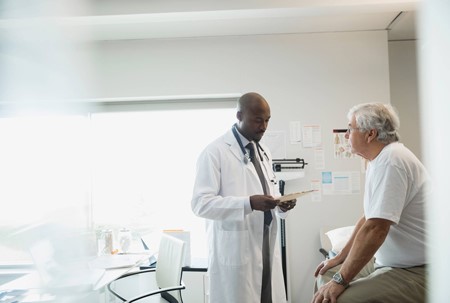 A new program improves health for Medicare patients by encouraging better care coordination. A patient may see several specialists in a hometown hours from here, but we can see all the patient's information. We've enrolled 22,198 patients so far, with cost savings of nearly $1.3 million.
Reducing Delirium Rates by One-Third
We reduced delirium rates by 37 percent with Epic-enabled prescription warnings and improved nurse screenings. These interventions helped us prevent and decrease medication-caused delirium in patients over age 70.
Rothman Index Saves Lives
The Rothman Index helps save lives by indexing multiple clinical warning signs in critically ill patients. It tells us 24-hour mortality risk, discharge disposition, 30-day readmission risk and ICU mortality risk. Epic data quantifies a patient's risk of death, increasing visibility into the multiple indicators for a patient whose condition is deteriorating, and allowing us to intervene.
Artificial Intelligence Reduces ED Wait Times
Artificial intelligence in the Emergency Department is helping us reduce patient wait times. This also frees up patient beds, allowing us to see more patients. Additionally, we can use this tool to staff the ED proactively when it predicts whether we'll see a surge in the number of patients arriving.
Helping Patients at Home
App Reduces Unnecessary Hospital Admissions
We're reducing unnecessary hospital admissions with PatientPing, an app connecting health care teams across organizations for seamless, coordinated care. It alerts non-Houston Methodist providers when their patients are admitted, discharged or transferred among any of our HM hospitals. This allows all providers to work together for patient-centric care.
Avatar Transforms Home Monitoring for CHF Patients
An avatar is helping reduce the number of hospital admissions by transforming home monitoring for CHF patients. With a pleasant human voice and empathetic facial expressions, Molly the avatar  reminds patients to take medications, check their blood pressure, step on the scales and more. Clinicians can assess potential risks and coordinate care to address any health care needs.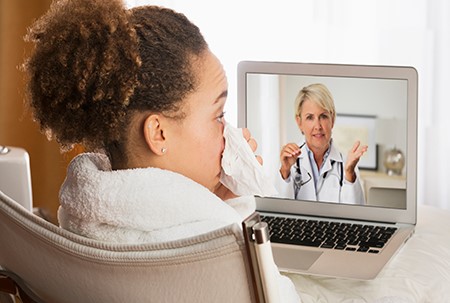 Better Nurse Triage Improves Patient Care
Until now, telephone nurse triage relied solely on a nurse's best judgment. But a new tool is providing standard protocols for 183 conditions for SPG/PCG nurses. Standardized guidelines help nurses determine whether patients need to call 911, go to the ED, come in now for an office visit – or whether they can take care of themselves at home. Improved triage proves particularly helpful for people with chronic illnesses who often require more frequent medical attention.
Video Visits Enable Just-in-Time Health Care for Employees
Video doctor's office visits are available to all employees and families enrolled in the Houston Methodist Medical Plan via the Houston Methodist Virtual Care app. Primary care physicians can treat ailments like acne, allergies, asthma, sinus infections, sore throats, sunburns, headaches, nausea/vomiting, urinary tract infections, minor skin infections and more. It's completely free just by providing your HM Medical Plan number.
Collaborative Care
Medical Record Sharing Made Easy in Epic
Care Everywhere is an Epic feature allowing physicians and healthcare providers to share patient health records with authorized caregivers outside Houston Methodist. To date, we've exchanged 9.5 million health care records, with 4.9 million in 2018. Access to patients' health history – lab
reports, medications, allergies and previous procedures – gives caregivers a more complete picture of their patients' health and also can reduce unnecessary tests.
Automating Required Public Health Reporting
Electronic case reporting automates required public health reporting for identified diseases. In addition to improved efficiency and accuracy, this collaboration with the City of Houston Health Department reduces our current workload by eliminating what had been a paper process.
Carequality Enables Medicare Record Sharing with Any EHR
Carequality nationwide data exchange simplifies how we share health information. It expands our current Epic Care Everywhere capability by joining us to a collaborative of healthcare organizations and providers across disparate electronic health record systems.