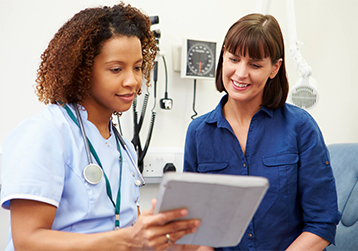 FHIR Education…
Allows patient access before, during and after hospitalization or procedures.
Integrates with patient's MyChart account and After Visit/Discharge Summaries.
Available on the patient's smart device.
Links to patient education videos.
Includes Spanish-language translation, with many documents available in 20 additional languages.
Clinician editing function to tailor each patient's content, including adjusting font size for easier reading and tagging "favorite" documents, making it easier for patients to find them.
Houston Methodist Sugar Land is piloting FHIR Education (also known as Krames on FHIR®), a new patient education system integrated with Epic and accessible through a patient's MyChart account. This tool will launch systemwide Monday, Feb. 25. Houston Methodist is a test site for Krames on FHIR® and is the first hospital in the nation to connect this technology with Epic and MyChart.
FHIR makes it easier for patients to access education materials on demand, without worrying about keeping track of papers when they may be stressed. MyChart access also allows patients to share the information with family and caregivers.
"With FHIR Education we're providing improved educational resources, delivered in ways that help our patients be more informed and better prepared," said Janet Leatherwood, HMSL chief nursing officer. "This can aid in their recovery, provide timely information, and for inpatients, also may help decrease readmissions. The goal is to enhance patient engagement, physician satisfaction and ultimately patient care."
Look for more information and training details coming soon.