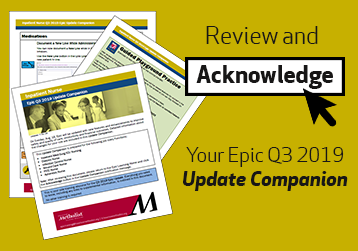 Review and Acknowledge Your Update Companion
The Epic Q3 Update is Sunday, Aug. 18. To prepare, be sure to acknowledge your Update Companion in the Learning Home.
As of Aug. 9, 38 percent of Epic users systemwide had reviewed their Update Companions. This is the sole training resource for the Q3 Update and is available in the Epic Learning Home.
For help finding your Learning Home, view the TipTalk or download the tip sheet.
Leaders: Prepare your team
Please review and share the following materials at your team meetings to ensure everyone is aware and prepared for this Epic Update.