To register for an exam, follow these steps:

Navigate to the UserWeb.

On the right side of your screen is a navigation pane. Locate the

Training

section and click

Taking an Exam

to open the Exam Request Form.

Click the Arranged with Proctor button, if is is not already selected.
Click the Exam date field and select the Tuesday you will take the exam.

Note: Epic requires that requests be submitted at least seven calendar days prior to your intended test date. 

In the Proctor field, select Janae' Singletary.
In the Exam-taker field, enter your name.
In the Exam field, enter the exam you need to take.

Note: Enter 'CEE' to find the Application Essential re-certification exams.

Choose the applicable Epic version. 
Once finished, click Submit Request. If the request is sent successfully you will see a message on your screen, and a confirmation email will be sent to you and the proctor.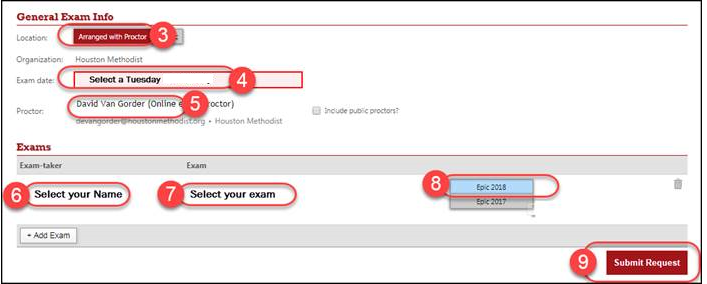 Space is limited so register early.  Registration is monitored and you may be asked to move to an alternative date. **Please note: Conference rooms are subject to change based on availability.
If you need further assistance, please send Epic exam questions to jnsingletary@houstonmethodist.org.