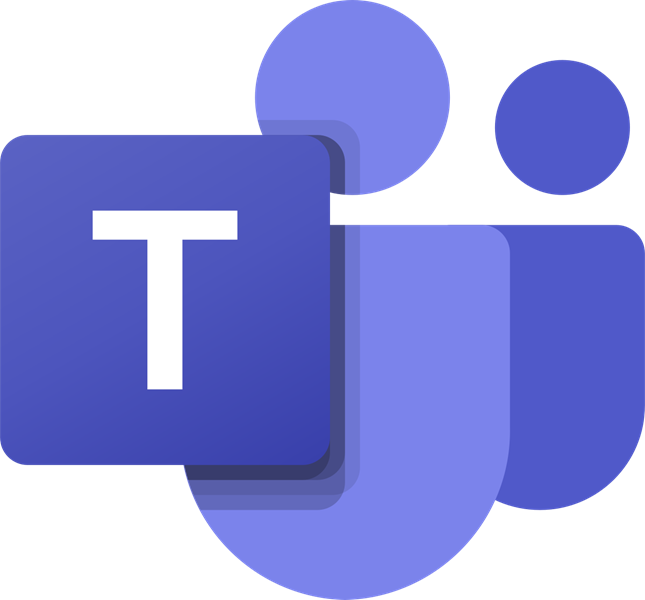 Microsoft Teams
Microsoft Teams is the hub for team collaboration in Office 365 that integrates the people

, 

content, and tools your team needs to be more engaged and effective. 
Welcome to Microsoft Teams!
Houston Methodist IT is proud to present Microsoft Teams for use across all entities and employees.  This powerful software will help keep us on the cutting edge of technology by providing an easy to use platform to share ideas and communicate more effectively with each other.
What can I do with Microsoft Teams?
Chat 

– send instant messages and chat in real time one on one or with a group of people. 

Join/Create Teams – Find "teams" to belong to or create your own to collaborate on different projects and initiatives.  Inside teams, create channels where you can hold on-the-spot meetings, have conversations, and share files.

Schedule Meetings

 

– Schedule or have an instant meeting with full online audio and video, saving time and travel. Your Teams calendar syncs with your Outlook calendar.

Share documents – Work together with Word, Excel, PowerPoint, and OneNote documents in real time

Be Mobile

 

– Download the full featured Teams app to your mobile device and be connected like you were at your desk.  Connect to Teams meetings directly from the app with full audio and video.
What are Teams meetings?
Teams Meetings include audio, video, and screen sharing. They're one of the key ways to collaborate in Teams. And you don't need to be a member of an organization (or even have a Teams account!) to join a Teams meeting—just look in the invitation for instructions about calling in.
What is Microsoft Teams?
Microsoft Teams replaces Skype for Business.  It is a chat and collaboration platform where all conversations, meetings, files, and notes can be accessed by team members in one place. Microsoft Teams is part of the Office 365 suite of services.
When can I start using Teams?
Teams is now available for everyone to start using.  The entire organization has been enabled for Microsoft Teams.
How do I access Microsoft Teams?
Browser – Everyone can access Teams from the office portal at https://office.com by clicking on the Teams tile or going directly to https://teams.microsoft.com.
Teams client – For those that sit at a desk and log into their PC, the Teams client can be pushed to your machine. Please open a ticket through the IT Help Desk for assistance with this.
Mobile app – The Teams mobile app is available for both iOS and Android users. The app requires Intune to be installed beforehand.
What are "teams" within Microsoft Teams?
Teams are collections of people, content, and tools that center around different projects and jobs within an organization. In Microsoft Teams, team members can have conversations and share files, notes and more.

How do I create teams?
To request a team, please submit this form.   Alternatively you should see an icon on your Teams app toolbar on left hand side that will allow you to submit the request without leaving Teams:

What's a channel?
Teams are made up of channels. Each channel is built around a topic, like "Team Events," a department name, or just for fun. Channels are where you can hold meetings, have conversations, and work on files together.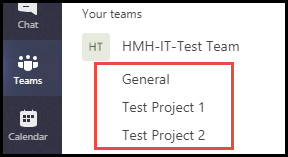 What's the difference between chats in team channels and private chats?
Team channels are places where everyone on the team can have open conversations. Private chats are only visible to those people in the chat.
Can I chat with other Teams users outside of Houston Methodist?
Yes, if you know the person's email address, then you should be able to contact them through Teams.
Can I schedule meetings using Teams?
Yes, it is possible to schedule meetings with Teams. By default, Teams meetings will only allow you to use your PC audio. If you would like a dial-in-number for Teams meetings, put a request into the IT Help Desk for an audio conferencing license.
Do my chats/conversations get deleted when I exit Teams?
No.  In Teams, your conversations are persistent for up to 30 days.  One a personal chat reaches 30 days old, it will get permanently deleted.  This only applies to one to one and one to many (group) chats.   It does not apply to chats with team channels.  There is not retention policy for those chats.
What is the Office 365 cloud multi-factor migration?
When you access Office 365 outside of our network, you typically get a text message to your phone. The text, in addition to your password, provides the "multi" factor authentication.
Our current Office 365 multi-factor solution that sends the text message, is a located in our data center. This migration moves that workload to the Microsoft cloud solution of Office 365.
It should be a fairly seamless transition as we take your existing phone number and import it into this new solution.
What is FHIR Education/Krames?
FHIR Education is a new patient education tool integrated with Epic and accessible through MyChart, the AVS and discharge summary.
The FHIR Education/Krames library features over 8,000 editable, customizable and searchable patient education resources, videos and discharge instructions. Materials are also available in Spanish and up to 20 additional foreign languages.
Topics are suggested based upon patient conditions, medications and procedures. Clinicians can also search from previously saved favorites.
How do I start or schedule a Teams meeting?
There are several ways you can start or schedule a Teams meeting.
Outlook (Desktop and Web version) – Click the calendar section in Outlook, then across the top you should see a button to setup a new Teams Meeting:

Mobile Outlook (iOS and Android) – To schedule a Teams meeting on your mobile device you must use the Outlook app.  In the Outlook app,tap the calendar icon, then tap the + sign, scroll down to the Teams Meeting and turn the toggle switch on.  Fill out your meeting details and then tap the check mark in the top right of the app.
Teams Calendar – Your Teams calendar automatically syncs with your Outlook calendar.  If you want to schedule a meeting right from within Teams you can.  Click the calendar button within Teams and click the New Meeting button in the top right hand corner.

Select a range of time within the calendar and Teams will open a scheduling form, where you can give your meeting a title, invite people, and add meeting details.  Microsoft Teams also has a Scheduling Assistant you can use to find a time that works for everyone.   If you create the invite here, you can actually assign the meeting to certain channels which would invite only the members of that channel.
Meet Now – If you want to start and adhoc meeting and want the quickest way to do so then use the Meet Now button.  In your calendar section within the Teams app, in the upper right hand corner you should see the Meet Now button.

What happens when my account gets migrated?
Once we move your account to the Office 365 cloud solution, you will notice the sign in page to Office 365 looks a bit different than it used to (see below). In some cases Outlook may prompt you for your password, if you are off-network. Your phone may also require your password again.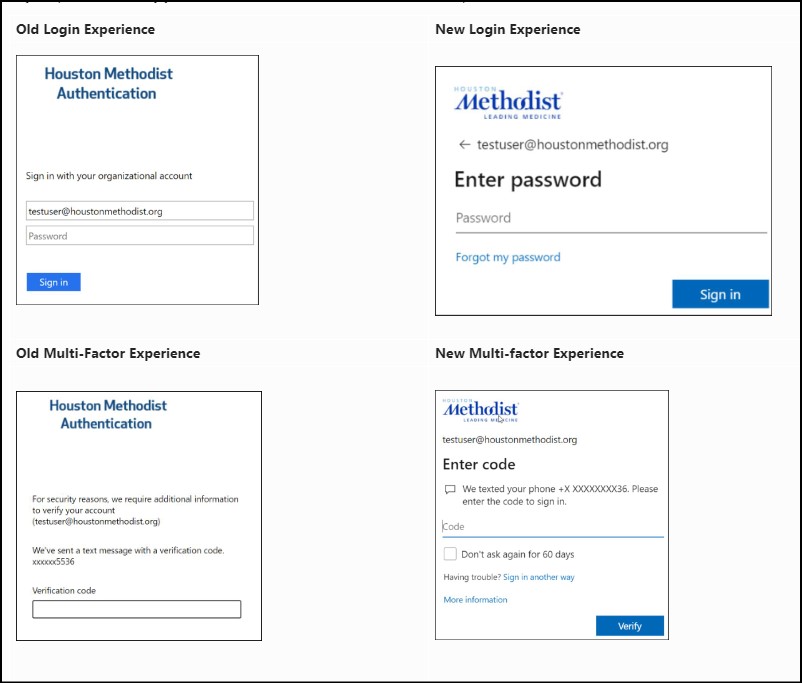 Who can use the new FHIR Education tool?
FHIR Education is available to all clinicians involved in patient care and discharge planning, including inpatient facilities and ambulatory clinics.
When I start a Teams meeting, attendees are only able to connect using their PC audio. How do I add a dial in number for users to call into?
To get a dial in number added to your invites, you must have an audio conferencing license. Only the organizer of the meeting needs this license. Once applied to your account, when you create a Teams meeting, the dial in number will appear on the invite. Also, this will give users the capability to use the call me back feature.
Many users who have scheduled WebEx meetings in the past already have this license applied to their accounts. If you do not see a dial in number when you create a Teams meeting, please reach out the help desk to request a license. It requires manager approval.
How do I change my phone number once I have been migrated?
To change your phone number once you have been migrated, follow these steps:
Sign into Office 365 at https://office.com.
In the upper right corner, click your profile picture and select My Account.

On the left hand side bar select Security Info. At this point it may send you a validation text message. Then on the next page select Change.

Alternatively, you can go to https://mysignins.microsoft.com/security-info to update your number as well.
Are we required to use FHIR Education?
Use of FHIR Education for post-op discharge instructions is optional for physicians. Within Epic, physicians have the option to use their own personalized instructions or to use the materials from FHIR Education.
What are all the ways users can connect to Teams meetings?
Users can connect by:
Clicking the "Join Teams Meeting" link in the invite – When connecting this way, if the Teams client is installed on their PC it will connect using the Teams client and use PC audio. This is the preferred way to connect users get the full experience. Also, you can connect this way and before joining the meeting there are options for audio, so you could then have Teams call you back or dial in for the audio connection.
Dial in – assuming there is a dial in number, the user can dial into the meeting just for audio.
Mobile client – any meeting can be joined via the mobile client. This allows users to connect over their data or WiFi connection directly into the meeting. This is the preferred way to connect from your mobile device as it gives the full desktop experience right from your device. All screen sharing and chatting can be done from the mobile device just like you were at your desk.
Can I continue to use the Authenticator app?
Unfortunately, it will not be possible to use the Authenticator app. Once you get migrated, it will revert to texting you.
Once we have migrated everyone to Office 365 cloud multi-factor, we will then make the Authenticator app an option again.
If we allow it as an option, Microsoft forces it as the default method and would cause confusion during the migration.
How does a physician indicate what discharge instructions should be used?
A new Discharge Post-Operative Patient Instructions order within the General Post-Op Discharge Order Set in Epic now requires physicians to indicate how patient instructions will be provided. Physicians must identify whether they are providing their own personalized post-op instructions or requesting that nursing provide FHIR Education.
If physicians opt to use their own instructions, they can create SmartPhrases within the order Comments section to flow information directly to the patient's AVS and discharge summary. These SmartPhrases can also be shared with the care team, just like notes and other favorites.
For more information, please review the Physician Supplied Discharge Instructions tip sheet.
Can I invite non HM users to Teams Meetings?
Yes. External users are allowed to join Teams meetings. Simply add them to your invite. If they use Teams they can connect via the client or if there is a dial in number, they can always just dial in.
Can I record meetings in Teams and how do I access those recordings?
Yes you can record meetings in Teams by clicking the record button at any time during the meeting.  On the meeting toolbar, click the three dots:

Then click Start Recording button: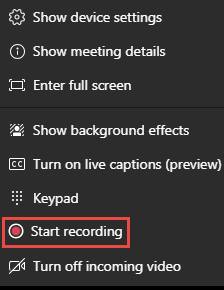 All recordings are uploaded to Microsoft Stream which everyone has access to with their office 365 account.  Whoever starts the recording, it will be uploaded to their account. Once uploaded to Stream and ready, the user will be notified.  From Stream the recording can be shared out easily.
To access Microsoft Stream, simply log into https://office.com with your email address and password, then click on the Stream tile:

Every recording is transcribed and that transcription is searchable. So if you search for a specific word, it will show you every time that word was spoken during the recording and if you click an entry, it will take you right to the point in the recording where it was spoken.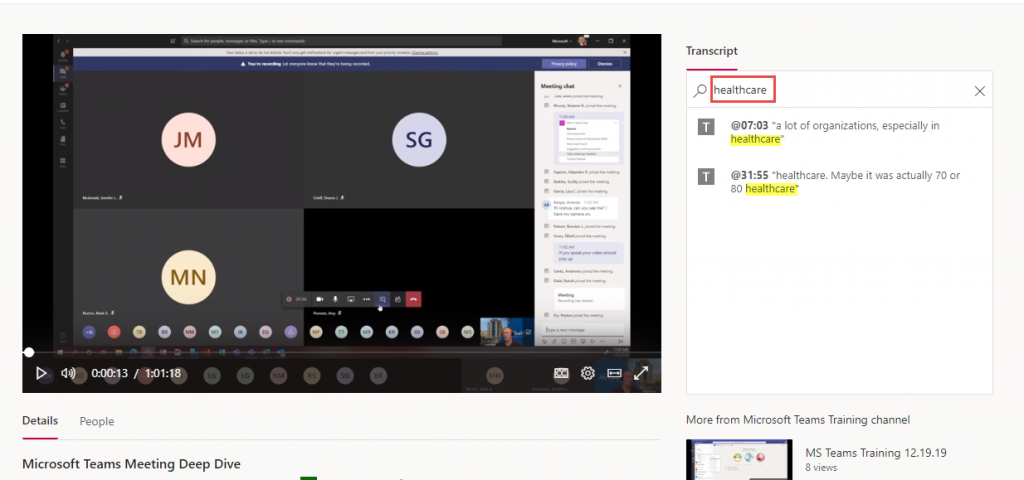 I see a "Forgot Password" option now. Can I reset my password using that?
The self-service password reset option allows you to reset your password if you want to change it or if you forgot it. You can do this without calling the Help Desk.
If you forgot your password, just click Forgot my password at the login page and follow the prompts.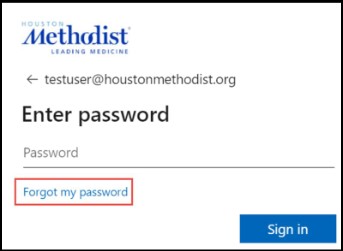 If you want to change your password, follow these steps after you've logged in Office 365.
Click on your profile icon in the upper right side of the page and click My Account.

Now on the left hand side bar select Password. At this point it may send you a validation text message.


Next, fill out the fields to change your password.



Alternatively, you can go directly to https://mysignins.microsoft.com/security-info to update your password as well.
Is training required for FHIR Education?
Training is highly recommended for all inpatient RNs, clinical pharmacists, respiratory therapists, PT/OT/SLP and dieticians. Training has already been assigned to you in LMS SuccessFactors, or you can search for the course directly (course #1575123).
Tip sheets are available for providers, ambulatory clinicians, clinical pharmacists and cardiology, radiology, infusion and perioperative nurses.
Can I share my screen and other content in a Teams meeting?
Yes. Every attendee can share their screen during a Teams meeting.
To share your screen, just click the present icon: 

  and you can present any of your screens OR you can just present a specific document or application that you have open.
Check out this article for an in depth look at how to share content: https://support.office.com/en-us/article/share-content-in-a-meeting-in-teams-fcc2bf59-aecd-4481-8f99-ce55dd836ce8
Where do I go to learn more about using the new FHIR Education tool?
A recorded training presentation is available in LMS SuccessFactors (course #1575123). Several tip sheets are also available in the Epic Learning Home for:
Speak with your manager, super users, program director for informatics or physician liaison for additional information. Questions may also be sent to epictraining@houstonmethodist.org.
Once inside the meeting, what options do I have?
Mute everyone – as the organizer you can mute all attendees.  On the meeting toolbar, click the show participants option:

then at the top of the list there is a mute all option: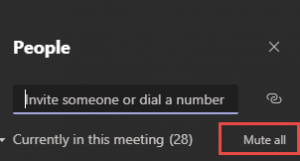 Chat with participants by clicking the chat icon on the toolbar:

For more options click the three dots: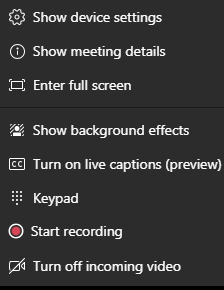 Click show meeting details if you want to dial a number for Teams meetings to call you on  Useful for conference room phones to dial into meetings.  Also you can copy the meeting invite information to send to someone who originally wasn't on the invite.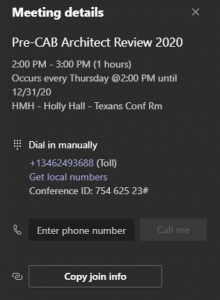 Why should I use the new FHIR Education tool, and how will it benefit me?
FHIR Education equips clinicians with the most current, evidence-based patient education resources and the ability to customize and select materials to each patient's specific needs. Through the integration with Epic, information can be printed for each patient, along with the AVS at the time of discharge or sent to MyChart for online access after discharge, aiding as a reference point for both patients and caregivers. Confident and informed patients and caregivers will result in fewer calls to the unit regarding previously discharged patients, better patient outcomes and fewer readmissions.
It's also easier to keep track of the diagnosis-specific education provided to each patient. It serves as a reference point for all clinicians involved in patient care and discharge planning, ensuring the patient was provided with all necessary discharge education information. You can also customize patient-specific edits at the point of care and prescribe video content.
How many attendees can join a Teams meetings?
Right now the limit is 250 users. In the very near future, it will be raised to 500 per Microsoft. They plan to raise the limit to 1000 within the next year.
For more than 250 users, you can use Teams live events.  See next question for information regarding Teams live events.
When do I provide information from FHIR Education to patients?
FHIR Education brings current education and discharge planning to the patient – during clinic visits, prior to admission and throughout the entire hospital stay. You can print education or provide video links while the patient is still hospitalized, or you can add topics to a cart for patient access later.
What options do we have for large corporate events or presentations?
Teams live events can host up to 10,000 users. It is a great options for corporate or very large gatherings. Teams live events allow all the same functionality as Teams meetings but attendees can only chat (instant message), only the presenter can be heard.
Chats or questions asked can be moderated too.
Watch this video to see how live events work and how to set up.
How will patients benefit from FHIR Education?
Patient discharge can be extremely overwhelming for both the patient and the caregiver. The ability to provide patient education in both a printable version as well as a patient accessible version in MyChart and on the patient's smart device, is assurance that the patient has a point-of-reference guide upon returning home.
There are also Spanish-language translations, with many documents available in 20 additional languages.
Can I start an adhoc meeting similar to a personal room in WebEx?
Yes, simply click the calendar button inside Teams, then at the top right hand corner click the "Meet Now" button. That will immediately start a Teams meeting. You will be prompted to add anyone you like.

How much of the patient's medication history is included in suggested topics for medications?
Suggested medication topics are based on the last 12 months of active or taken medications in the patient's history, as indicated through Medication Reconciliation.
Should I start using Teams meetings instead of WebEx?
Currently, you can use still use WebEx if you prefer. We would encourage you to try out Teams meetings.
Using Teams, the entire life-cycle of the meeting is kept inside of your Teams client. The Teams meeting will always be available for you to go back and chat with those users as a group chat even after the meeting is over. Also, any files shared during those meetings will be available in that meeting chat.
Will suggested content appear for procedures that have been scheduled, but not completed?
No. Suggested content for procedures is based upon the last 12 months of completed procedures in the patient's history. Content will not be suggested unless there's a completed procedure with a corresponding date in Epic. You can still search for any education you would like to provide to a patient pre-procedure.
Where in Epic can I find what FHIR Education has been provided to the patient?
When education is provided to the patient via print or sending to MyChart, the education is documented in three different places in the patient record:
Notes activity tab
Discharge AVS and/or MyChart AVS
Chart Review under the Notes section
If I show a video to the patient from within the FHIR Education, will the patient record be documented?
No. Showing the video to a patient from FHIR Education will not document the patient record. To do that you would need to print the video sheet or send the video sheet to MyChart.
Can I reprint patient education materials to reinforce information from FHIR Education?
You can reprint education from the Notes activity. Don't reprint from the FHIR Education activity, as this will send unnecessary duplicates to the patient's MyChart and cause duplicates to be printed on the AVS.
What happens if I add the wrong education to a patient and/or add education to the wrong patient? Will the education appear on the AVS?
When this happens, you should follow your approved chart correction process for removing the content in Epic. If a soft delete is done to remove the education note from the patient record, it should not appear on the AVS.
How long will my inline edits to a patient's education be available?
Inline edits will be available until the document is printed, sent to MyChart or the session is ended. If the session ends before you print or send to MyChart, the edits will need to be done again before you provide to the patient.
How will patients access videos from their MyChart accounts?
Video sheets are attached to the AVS, which are available post-discharge in the patient's MyChart account. The AVS will include a URL address for the video and a QR code that can be scanned by a mobile device. Accessing the video will take the patient out of MyChart.
Powered by HTML5 Responsive FAQ
If you would like to create a new "Team" inside of the Microsoft Teams application, please submit this form. Once approved, you will be made the owner and you can then add members to the team.
When you create a Teams Meeting you will only be able to use your PC audio.  If you would like a dial in number you willl need an addtional license.  Please reach out to the helpdesk for an audio conferencing license.
If you need the Teams desktop application on your work computer or laptop, please put in a request to the helpdesk.  For workstations outside of work, you can download the app from here:  https://teams.microsoft.com/downloads
Feel free to download the Teams mobile app from either the Apple app store or Android play store.  Keep in mind you need to have installed the Company Portal app and registered your device before you can use the Teams app.  If you already have Houston Methodist email on your phone, then your device is already registered and you can immediately start using the app.