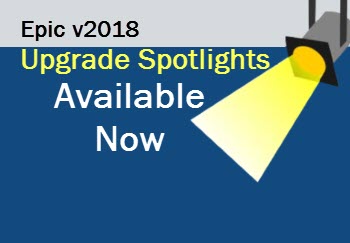 Check out a high-level overview of role-based changes coming with the Nov. 11 Epic v2018 upgrade by accessing your Upgrade Spotlights on the Epic Learning Home.
To find your Upgrade Spotlight, click on the Spotlight notable banner in the top-right corner of your Learning Home and select from the list of available Upgrade Spotlight documents.
Note: Some roles do not have significant changes, so no specific Upgrade Spotlight will be available. However, you can review documents for other roles.
In October, you'll be able to review and acknowledge your Upgrade Companion for more detailed explanations of changes by role.
For help getting to your Upgrade Spotlight, view the Access Your Learning Home tip sheet.