Robotic Process Automation (RPA)
What is Robotic Process Automation (RPA)?
Robotic Process Automation (RPA) is part of a larger Intelligent Automation initiative, which also includes Machine Learning. RPA is a software that mimics tasks performed by human users. This software is able to automate a process entirely or partially.
RPA Solutions are agnostic in most cases and can eliminate duplicate activities across a wide variety of applications.
The RPA program at Houston Methodist started in 2018 as part of our Innovation Center and our first process was live in 2019. Since the beginning, we've focused on saving the organization time, increasing efficiency and improving compliance.
We are always looking for opportunities to help automate processes for our business and operations partners. If you'd like to learn more, please reach out to us.
Robotic Process Automation (RPA) can help increase capacity within a department, making work more rewarding for team members and eliminating mundane tasks.
This of RPA as a "digital worker," allowing human workers to focus on creating more value for the organization.
Three benefits to RPA across every industry include:
Efficiency: Digital Workers don't require breaks
Available 24 hours a day, 365 days a year.
Where human beings require breaks and rest, digital workers do not.
Automated processes are virtual and can run continuously.
Digital Workers can be started and stopped as needed.
Digital Workers can work along side humans to improve the quality of work for the department.
Accuracy: Exact execution of processes
When good candidates for automation are developed properly, each transaction yields a consistent error free result.
Digital Workers will perform a process exactly how it is instructed.
Each transaction yields a consistent result. This eliminates rework and aids productivity.
Consistent and identical outcome each time the robotic process runs.
Cost Benefit: Digital Workers save time and money
Digital Workers reduce cost and increase output and capacity
Allows employees to focus on more challenging and/or desirable tasks.
Automation can help a team scale up quickly.
Supplement staffing needs as HM grows.
So, how do you identify an opportunity?
There is no exact methodology but there are some characteristics to look for. The following is a summary list and not exhaustive. If your process falls into one of these categories than it may be a good candidate for RPA.
High Volume – Processes which have a significant amount of "similar" transactions.
Rules based activity is a simple decision tree. "If this, then that," "True or False," etc.
Process stability is important. Instability increases revisions and maintenance
Repetitive – The same process steps are performed the same way each time.
The image below explains of the journey from the time an idea is submitted until it is chosen for development.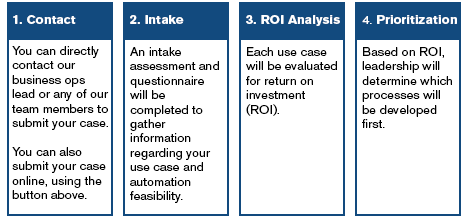 Any process is welcome for evaluation. If you have a process that may benefit from RPA, then please click the button above and complete the submittal form.
COVID-19 Processes
During the pandemic, we created several processes that helped solve problems on multiple fronts.
We deployed processes that helped collect reimbursement for Covid expenses from HRSA as well as surveillance for our employees.
The most recent and significant is our vaccination program. In some case's we had incomplete information in order to seek reimbursement either from our commercial insurance payers or Medicare. There were thousands of unbilled claims simply because we didn't have the correct MBI numbers. We were able to automate retrieving the MBI numbers in order to seek reimbursement for vaccinations. This saved time as we were vaccinating thousands of individuals a week at the height of our roll out.
Our ability to leverage RPA helped support our efforts throughout the pandemic. The increased FTE capacity reduced the need to acquire additional labor when resources were stretched and scarce due to Covid 19.
Revenue Cycle – Claim Status
Thousands of claims are filed daily at Houston Methodist. Given the volume of claims being filed, it is difficult to manually check each claim. So often there are different websites for each of the insurance companies. When you add the number of insurance companies, websites and consolidated portals, it can require a lot of manual inquires as to the status of a claim.
There are two routes that are often taken. The first route is to manually check each claim and the second is to utilize a service provider. In this instance, we were paying a vendor approximately $200K per year to perform this service for one of our Entities. The rest was being performed manually.
Our team was able to leverage WorkFusion to automate this activity for the remaining manual effort and replace our service provider. We increased FTE capacity and reduced the services fees we were paying. This saved us thousands of dollars in fees and reduced the time our revenue cycle teams were spending researching the status of claims.
Frequently Asked Questions
How do you document a process for RPA?
Video Recording – Video recording of a team member performing the task. This should be no more than 5 minutes.
How much time will be required of my staff?
RPA may require up to 3 hours a week of an appointed SME's time. The SME will need to help provide contacts if necessary and resolve any required process changes.
Who will be responsible for testing?
Individuals from the process owner's team will need to be identified for testing. Typically, this is verification that the Bot is performing according to the business requirements.
How long does it take to develop a process from start to finish?
The development timeline is dependent on the complexity of the process and the number of systems involved.
Will any additional training be required?
Very little training is usually required. However, the responsibility to communicate process changes will rest with the SME and process owners.
Can a Digital Worker make decisions like a human being?
Digital Workers can only do what they are programmed to do. Cognitive decision-making is not a feature of RPA.
What happens if the Digital Worker makes an error?
Once tested, approved and deployed, errors are highly unlikely. Exception reports will be provided to the department for monitoring and review.
What happens if a Digital Worker fails?
If you experience any issues, you can contact the RPA team directly.
Who "owns" the Digital Worker?
Your team will own the digital worker. The RPA team will be responsible for upkeep and support.
What application is used by the Intelligent Automation team?
We currently use WorkFusion to automate proceses. No training is required by your team.
Digital Workers perform activities as programmed and will repeat this process until completion.
RPA acts as an integration tool in many instances where the same information must be entered into two different systems or transferred from one to another.
To the right is a video demonstrating how our WorkFusion application works.
Intelligent Automation Leadership
Roberta Schwartz, Executive Vice President & Chief Innovation Officer
Lisa Schillaci, Vice President, Revenue Cycle Operations
Scott Ulrich, Vice President, Finance
Michele Stansbury, IT Vice President, Applications & Innovation
Brad Shaink, IT Administrative Director, Innovation & Business Systems
Saima Abbas, Director, Software Services and Access Technology
Beth Schindler, Director, Internal Audit
Murat Uralkan, Director of Innovation
Stephen McTague, Manager, Application Development
Intelligent Automation Team
Frank Adekiya, Technical Lead
Colleen Tallant, Operations Lead
Pramod Ubbala, Sr. Solution Architect, Intelligent Automation
Ibrahim Bukhari, Developer, Intelligent Automation
Stacey Martinez, Sr. Business Analyst
To submit a question by email, click here.