Sept. 20 Epic Update Now Available
The Sept. 20 Epic Update is complete. This update included new features and enhancements to improve safety and quality of care, productivity and financial outcomes.
If you experience any issues, please call the IT Help Desk.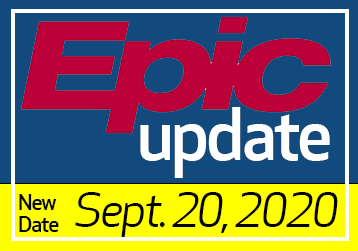 Epic Downtimes
*Sunday, Nov. 15, 2-4 a.m.
*Epic Update
New Hire Nurses
All Epic training is taking place remotely, either through live, instructor-led WebEx courses or self-paced online courses. At this time, live WebEx courses continue on the same dates and times as scheduled in LMS.
We are now offering a two-part training program to better serve our new nurses. The first session consists of an online, self-paced learning and the second is an instructor-led WebEx.

 Agency/Travel/Flex Nurses
During clinical orientation, onsite clinical educators assign one of the following online trainings to agency, travel and flex nurses, who will receive an email from LMS with login information.

Floating Nurses with or without Epic Experience
For HM floating nurses, specific courses are required based on your role, the role you are floating to and whether you have Epic experience. For more information on role-based courses, click here.